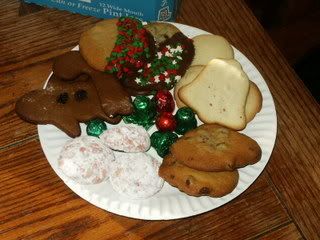 Welcome Back! See I have cookies! Don't worry there are more of the Chocolate Chip dipped ones (I'm hiding them from the Things) The bells are a butter cookie, the white ones are peppermint snowdrops, and of course , chocolate chip and gingerbread boys... yum!
And now in the interest of truth -- YIKES!!!
Yeah - notice how much smaller these pictures are. My house looks like a BOMB went off in it. Keep me accountable! I will get this place straightened up today!! This is 2 baskets of clean and FOLDED laundry - that apparently can't climb the stairs and put itself away. Also the basket of library books and the boxes that held the Christmas decorations.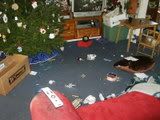 This is my living room floor - ugh - STUFF everywhere - the box in the corner is currently being turned into a rocket by Thing 1 - I'll take pictures of it when it's done.
My dining room table - there is barely room to eat --
Gift baskets almost ready (the ones to ship to far away relatives anyway) and the pile-o-Christmas-crafts left to do..... The next one - I really DON'T want to post -- but I need motivation to fix it.
My kitchen - and I still have more baking to do - and No there is no more counter space than what you see here. The other side of the sink has the microwave - and the other side of the stove has the toaster oven. Considering how much I bake the lack of counter space makes it interesting to say the least.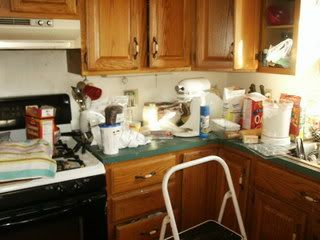 Well, hopefully y'all will come back - and see a sparkling house later tonight! Or at least a house full of DIFFERENT messes. sigh.